Every January, the lovely Diana from The Chic Life hosts the Eat in Month Challenge.  I did this challenge for the first time in 2011 and skipped last year (although I couldn't tell you why!).
I hadn't really thought about joining this year, but as I stocked up on produce on New Year's Day, I decided "why NOT join?" – so here we are!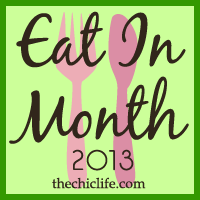 The goal of the month is to "eat every single meal (breakfast, lunch, dinner, brunch, snacks…whatever you choose!) "in". The goal is to eat "in" more than you did before January to save money and eat healthy meals & snacks."  Participants get one cheat pass during the challenge, for which they can eat one meal out.  The challenge runs January 1-31, 2013.
Easy enough, right?  Make your own meals, don't eat out.
Who's got two thumbs and loves eating out?  This girl.  Maybe not so easy.  There are a variety of dining options for me at work, some healthier than others, none of which require going outside.  This is a definite perk during the frigid Michigan winters!
Diana encourages participants to tailor the month to fit their needs.  So, here are the exceptions I'm allowing myself:
My beloved Starbucks is A-OK.  I'm going to try really hard to truly stick to Fancy Coffee Friday – over the last couple months, I got really lax and stopped by more than once a week.
Dinners with my dad and stepmom do not count.  Every couple of weeks, they come into town to visit and take me out for dinner.  I still plan on taking those chances to see them when they're in town.
That's it.  Those are my two exceptions.  My one cheat meal?  I'm going to make it a good one, let me tell you what.
Avoiding meals out is a healthier option!  It should come as no surprise that most restaurant meals are far more than one portion – yet, more often that not, how many of us clean our plate?  That is so many extra calories that can add up really fast.  Not to mention, when you eat out, it's a lot harder to control what goes into your meal.  Sure, you can ask for changes, but by cooking at home, you get full control of what finds its way onto your plate.
A few days into the challenge and I'm off to a great start!  Granted, I only had to work three days, but I brought my lunch for all of them.  As the month goes on, I think the temptation will get stronger to eat out, but I have to remember that it is only a month.  I really hope, though, that it will help me cut back on my eating out in future months.  I've improved over the last couple months in this area, but there's still room to improve.
Something that has been really helpful for me to cut back on my eating out is to make it a cash only option.  Eating out is crazy expensive!  It's so much easier to go out for a bite when I can just throw down my debit card when the check comes.  By only taking $20 out at a time?  It makes me really second guess it so I can make that money last!  I've been doing this for a couple months now and while I've cheated a couple times here and there, it had really helped me cut back!
Eat in Month?  Awesome for the wallet and the waistline!  Winning.
If you haven't joined Eat in Month, it's not too late!  Join the fun!