happy Royal Wedding Day!!!
I didn't get up early to watch the royal wedding live, but I spent a good part of the morning watching clips.  Kate was a stunning bride – she is so full of poise and grace (anyone else want to be her BFF after all of this?  I do!).  I thought her dress was breathtaking.  It was very fitting for such an occasion.  Prince William looked very classy!  The love they share is so evident.  I think Princess Diana would have been a proud mama today.
I thought the prayer they wrote for the day was beautiful.
God our Father, we thank you for our families; for the love that we share and for the joy of our marriage.  In the busyness of each day keep our eyes fixed on what is real and important in life and help us to be generous with our time and love and energy. Strengthened by our union help us to serve and comfort those who suffer. We ask this in the Spirit of Jesus Christ. Amen.
I may have missed the ceremony itself, but thanks to online streaming, I did get to see their first kiss live!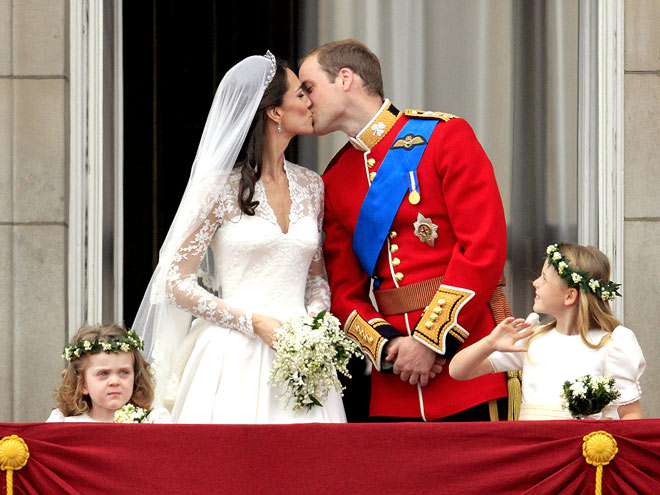 (source)
It's official.  I want to be a princess.  Princess Mindy has a nice ring to it, don't you think?
breakfast.
I grabbed some food to eat once I got to work today – strawberry banana Chobani topped with vanilla almond crunch Bear Naked granola.  It's definitely a combination I'll repeat!
I spent my whole morning working on a project I've been putting off for ages!  It's something my whole department is contributing to.  It still doesn't have to be done for a couple more months, but I'm just about done with my section!  The only part I haven't done I don't have the information I need yet, so I can't completely cross it off my to do list for a couple more weeks.  Still, it felt awesome to get such a massive chunk done!!
lunch.
After a several hours of staring at the computer screen, I was more than ready for lunch!  One of my coworkers and I called in a take out order from Vitale's, a local Italian place.  I hadn't planned on getting anything when she suggested it, but the eggplant parmigiana caught my eye!  It came with some garlic bread.
I ended up eating the whole thing and it's sitting pretty heavy right now.  I'm wishing I had stopped at half!
With the River Bank Run only two weeks from tomorrow, I mapped out what the remaining training days are going to look like.  I've 98% decided I'm going to run the full 25k (I've been contemplating dropping down to the 10k).  I know I'm not as trained as I should be, but I'm just going to go and have fun with it. Because, isn't that what running should truly be all about?
My only real goal is to cross the finish line in one piece!  Secondary, would be to beat last year's time of 3:21:04, but with having finished the National Half Marathon in 2:30:54 last month, I feel fairly confident that's a doable goal, despite the lack of training since that race!